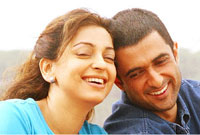 Inspired by true events, Onir's debut My Brother...Nikhil is an ambitious, deeply emotional film, featuring subtle performances from its ensemble of seasoned actors. In stark contrast to the big-budget spectacles that have come to stereotypically define India's rich cinematic traditions, Nikhil underplays its melodramatic sensibilities to evince some truly heartrending moments.

Set in Goa, from 1987-1994, the film narrates the story of Nikhil Kapoor (Sanjay Suri), champion swimmer and all-round nice guy, who is diagnosed with HIV at the height of his sports career. News of his diagnosis spreads quickly in the community, ultimately leading to his arrest and subsequent imprisonment in an abandoned sanitarium. Nikhil's parents flee Goa in shame, leaving elder sister Anamika (Juhi Chawla) to provide support to her brother, along with Nigel (Purab Kohli), Nikhil's boyfriend.

Given that My Brother...Nikhil centers around issues of HIV/AIDS, gayness, gender bias, and social stigma, the film is sometimes forced to function as an extended public service announcement. For example, the depiction of the legal battles regarding Nikhil's 3-month imprisonment is so underdeveloped it borders on being peripheral. The film works best as a family drama in which parents, children, siblings and partners must come to terms with the ravages of illness and blighted expectations.

Of special mention is the film's narrative style--rather than allowing the film to unfold in a linear fashion (which would have resulted in little more than a two-hour death knell), Onir cleverly uses a docu-drama approach in which each of the principal characters directly addresses the camera, narrating the flashbacks that fill-in Nikhil's story. Though this technique falters a few times, it is surprisingly effective on the whole, especially in terms of character development.

The cast is, without question, the film's biggest strength. Purab Kohli and Lilette Dubey, as Nikhil's boyfriend and mother respectively, are solid. Victor Banerjee is especially fine in the role of Nikhil's father, who must overcome his deep-seeded homophobia in order to reconnect with his son. Juhi Chawla gives a potentially career-best performance as Anamika, Nikhil's sister, confidant and champion. And finally, Sanjay Suri (also serving as producer) turns in a sterling performance as Nikhil. Although often overlooked in mainstream Hindi cinema, Suri proves here that he ranks among the most expressive and dauntless of Indian actors.

Also worth mentioning is the ingenious TV promo-spot (included on the Elite DVD). A range of well-known Bollywood personalities (Karan Johar, Abhishek Bachchan, Saif Ali Khan, Mandira Bedi, among others) appear to say, "I care for my brother, Nikhil. Do you?" one after another, after another, until a title card with the film's original release date appears. It's rare to see celebrities promoting projects with which they have no affiliation, especially those that deal with what might be considered "controversial" thematic content.

Recommended.